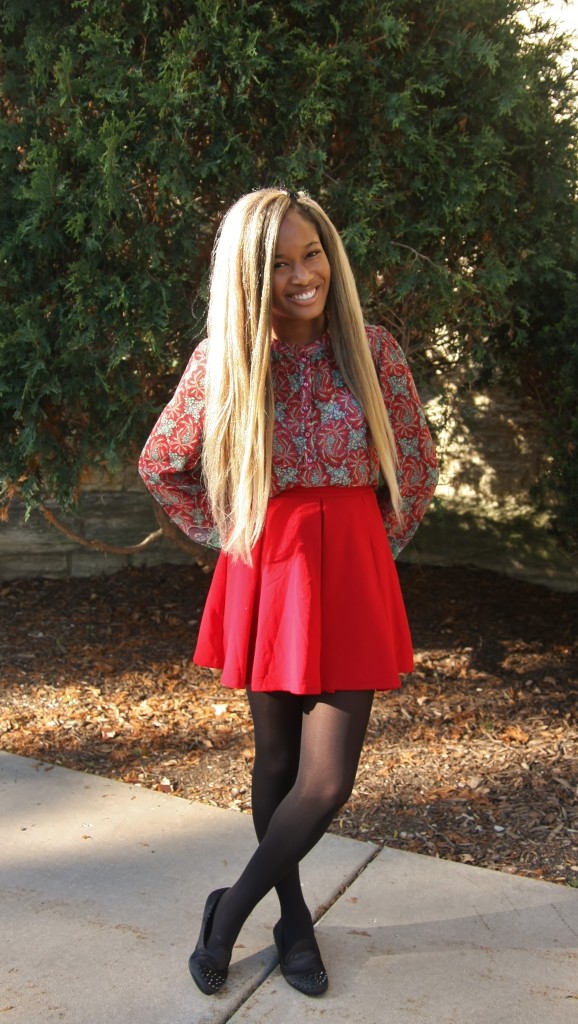 Name: Olivia Culver
Age: 19
City/Hometown: Detroit, MI
Occupation: Student
If student, which school and major: Wheaton College, Applied Health Science Major, Spanish minor
How would you describe your personal style? I would describe my personal style as girly, edgy, artsy. I'm more comfortable in skirts and dresses than jeans and pants. I'm obsessed with denim, leather, and metal accessories.

What is the inspiration for your looks? I'm into looks that are simple yet bold. I get inspiration from street style and from other forms of art (music, paintings, photographs, movies, etc.).
Where do you like to shop, and why? I like to shop at discount stores (Marshall's, Ross, F21) and thrift stores, because I'm not rich! Also, I love to shop at thrift stores to find unique pieces that no one else has.
What are some of your favorite pieces in your closet? This red skirt from Akira and this sheer blouse from Marshall's are my favorite skirt and shirt actually. I also love to wear my denim jackets; one is acid wash and one has leather sleeves.
What does fashion mean to you? Fashion means personal expression. It means sending a message, a feeling, a vibe to the world around you. Fashion is art that one can walk around with and change up everyday. It's fun, it's creative, it's dynamic, it's expressive.
What do you think of UCOF's mission and presence in the fashion industry?  I think that what UCOF is doing is meaningful and important. Fashion is an art form that's useful and necessary. I'm definitely all about pursuing one's dreams and doing what you love and what comes natural so it's heartbreaking to see those who desire to work in fashion but don't have the means to do so. They deserve a chance to grow in their skills and learn how to be successful.