By Michael J. Palladino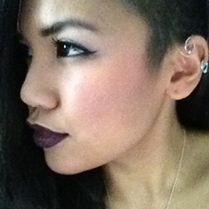 Through an annual event helping survivors of domestic violence, Reveal NYC uses the power of beauty to help these courageous women who are moving their lives forward. Reveal is a New York City-based organization that aims to foster uplifting experiences for women survivors of domestic violence. Created in 2007, the group partners with corporations and professionals in the beauty, health and fashion industries to restore dignity, reinforce love and celebrate beauty through monthly workshops and an Annual Makeover. Reveal has two major components. The first is a series of monthly workshops hosted through a prominent partner shelter in the city. The second part is an Annual Makeover event which gathers some 100 volunteers and has served over 75 women from four partner shelters in years past. The women arrive at a confidential location where they are pampered – nails painted, hair styled, makeup – as well as receive style advice from a number of professionals in the fashion industry. The aim of the Makeover Event is to instill confidence and celebrate the inherent beauty of the women – no strings attached.
Grace Manalo, UCOF Manager of Education shared this opportunity with our team and I was quick to volunteer. Domestic violence is a concern for us all as statistically 1:4 women have experienced domestic violence first hand. For those of you who don't know Grace, she is passionate member of the UCOF team and along with Ji In Lee, a vital part of our Department of Education. Grace is a first generation Filipino-American born and raised in New York. She attended the University of Delaware where she graduated a dual major with a BS in Apparel Design and a BS in Merchandising. She has had professional experience in Product Development and Design in NYC. Her goal in life is to continue her path of self-discovery and self-expression through helping others. It is through fashion that Grace is helping to impact the lives of others. This event allowed us both to bring our fashion and styling abilities to Reveal NYC while also promoting the work we do at UCOF.
The event was held at an undisclosed location for the privacy and safety of the guests who attended. The women are currently in the NYC shelter system and were escorted to the event and given a day to make them feel special and reclaim their beauty. The event had several area stations to include a "RTW" area which offered the women clothing and advice from trained staff complete with fitting rooms and personal stylists, hair, makeup, skin care and even a private area for neck and back messages. Lunch was also offered, a personal photo shoot, large goodie bag and a single red rose. To see these women smiling and laughing and happy was the best way for us to spend our Saturday.
It is so important for us as UCOF to insert ourselves in the community and at events like this. It allows us to reinforce our commitment to fashion education by sharing our knowledge and talents beyond our students.   It also shows the power of fashion to help change the trajectory of someone who is reaching for a fresh start, reaching to find her place in the world and ultimately to feel good about herself and to reclaim her inner and outer beauty.
I applaud Grace Manalo for her commitment to UCOF and her passion to find many different ways to use fashion to help make a difference. Grace and I are looking forward to work closely with Reveal NYC and potentially to find points of collaboration with them as we share a respect for fashion and its power to empower.