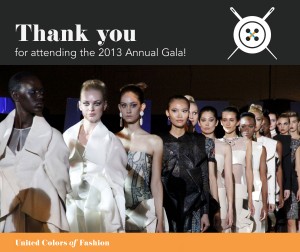 Dear Supporters,
On behalf of myself and the entire United Colors of Fashion team, we would like to thank each and every one of you for your unwavering support of our organization and our cause.
On October 9th, we held our annual gala at the historic Lexington Avenue Armory in New York City and it successfully fulfilled what UCOF believes in — FAITH. HOPE. FASHION. We remain faithful that our mission to empower youth through fashion will launch the careers of our interns, while we provide hope for their futures and for our children in Soweto, South Africa through the magical medium of fashion.
It was such a privilege to have Fern Mallis, fashion industry leader and the renowned creator of New York Fashion Week, as the Honorary Chair for the event. Legendary supermodel Pat Cleveland has made invaluable contributions to the worlds of fashion and the arts, and was honored with the 2013 Lifetime Achievement Award. Ms Cleveland was presented with the award by Bethann Hardison, and was accompanied onstage by supermodels of the 1980's including Carla Hall, Coco Mitchell, Patricia Tracey, Jamie Foster, and Linda Morand, among several others.