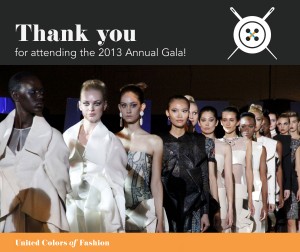 Dear Supporters,
On behalf of myself and the entire United Colors of Fashion team, we would like to thank each and every one of you for your unwavering support of our organization and our cause.
On October 9th, we held our annual gala at the historic Lexington Avenue Armory in New York City and it successfully fulfilled what UCOF believes in — FAITH. HOPE. FASHION. We remain faithful that our mission to empower youth through fashion will launch the careers of our interns, while we provide hope for their futures and for our children in Soweto, South Africa through the magical medium of fashion.
It was such a privilege to have Fern Mallis, fashion industry leader and the renowned creator of New York Fashion Week, as the Honorary Chair for the event. Legendary supermodel Pat Cleveland has made invaluable contributions to the worlds of fashion and the arts, and was honored with the 2013 Lifetime Achievement Award. Ms Cleveland was presented with the award by Bethann Hardison, and was accompanied onstage by supermodels of the 1980's including Carla Hall, Coco Mitchell, Patricia Tracey, Jamie Foster, and Linda Morand, among several others.
The gala was presented to an audience full of dignitaries, global fashion enthusiasts, and members of the fashion and lifestyle media, including celebrities such as Phillip Bloch and Appolonia, just to name a few. UCOF gave guests in attendance an exceptional international runway show featuring 60 models from 20 top agencies and seven acclaimed designers from around the world, including Marc Bouwer (USA), David Tlale (South Africa), Naked Ape by Shaldon Kopman (SouthAfrica), Ron & Ron (Haiti/USA), Kosibah (United Kingdom), Sukeina (USA) and Carmen Marc Valvo (USA). We had industry veterans overseeing the runway show, including: Jan Malan who was the show Producer, Sandi Bass who was the Casting Director, and Christine de Lassus who acted as the Stylist. Supermodel Devyn, the first official winner of "The Face" reality TV modeling competition, represented the 2013 Annual Gala as the International Fashion Ambassador.
However, the highlight of the evening was when gala attendees witnessed firsthand the progress UCOF has made through the first collection by Sade Solomon – the Fashion Education program's top intern and UCOF's Achiever of the Year. "I have learned so much in my past three years of working with UCOF," explains Sade. "I have also grown as a person and as a designer. UCOF to me is people helping people: helping children in South Africa with AIDS and HIV, and also helping emerging designers like myself."
As the first registered 501 (c)(3) in the nation to offer free fashion education to under-resourced youth, after getting ample feedback from our interns after the gala about how much they learned during their training, it's evident our unique fashion education program is desperately needed. 80% of new designers go out of business in two years due to lack of resources, funding and support. To date, foundations and the government do not provide funding to offer free fashion education to under-resourced youth or financial support for new designers. There are more opportunities in the Arts (vs. Fashion) due to better levels of support. Fashion is Art, and it should be treated as such. The struggle continues for our under-resourced youth who want to have careers in fashion, and so our fight is to continue Empowering Youth through Fashion despite the limited funding.
By attending our gala, you made it possible for us to continue running our programs for the upcoming year and helped turn dreams into reality for our youth. Moreover, the gala provides UCOF's Fashion Education interns with free workshops and training in the areas of Fashion Design, Marketing/Public Relations, Merchandising, Fashion Show Production, Styling, and Hair & Make-up.
If you attended the gala this year, thank you from the bottom of our hearts, we truly appreciate your support and generosity. If you were unable to make it this year, we look forward to having you attend our 2014 Gala, which will take place on Wednesday, October 8th.
We invite you to visit our website weekly to get updates on our students, and see the impact your support is making in their lives. From day one, we made a promise to always prove our work through pictures and videos. For this season, we are making our website very interactive to allow you to get updates on each student, comment on their work, chat with them and be able to track  their progress. Our students for this season attend Fashion Institute of Technology (FIT), Kean University, William Paterson University and Irvington High School. On December 1st, the 2014 top interns will be announced at the White Space in Chelsea, and we hope you can come to congratulate the winners in person. In Mar ch 2014, we will be in South Africa visiting the HIV-infected children in Soweto to deliver supplies, donations and to take the top fashion interns from NY to Africa to study global fashion on an all expenses paid trip by UCOF. We invite you to take part as we continue to Empower our Youth through Fashion.
Click here to view the albums of our 2013 Annual Gala on Facebook.
They can also be viewed online at Event Photos
With genuine gratefulness,
Ciano Clerjuste
President and Chairman
United Colors Of Fashion
UCOF | Empower Youth through Fashion
www.unitedcolorsoffashion.org
917.266.4171