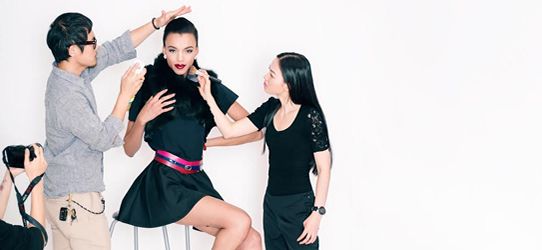 Enlarge image

UNITED COLORS OF FASHION HOSTS FASHION CAREER EXPLORATION DAY

NEW YORK, NY (October 7, 2015): Today, United Colors of Fashion Academy (UCOF) – a 501(c)(3) organization that offers fashion education free-of-charge to undeserved youth in New York City (NYC) – will host a fashion career exploration day for over 100 NYC high school students and guests at Murry Bergtraum High School for Business Careers (MBHS) – one of the first business-themed high schools in NYC.
"Our youth are the future leaders of our community," said Ciano Clerjuste, Founder and President of UCOF. "We focus on empowering youth by providing a fashion education program at no cost to them as a way to provide guidance and help nurture their interests."

For five years, UCOF has been offering free fashion education programs to youth in New York. Earlier this year, UCOF welcomed Michael Palladino, VP of Fashion Education, who leads and designs the new curriculum. Under his leadership, UCOF has secured partnerships with four NYC high schools and will host fashion career exploration days to give students interested in a career in fashion the opportunity to explore the vast professions the industry offers and listen to seasoned professionals share their experiences.
The fashion career exploration day held at MBHS will consist of nine 20-minute sessions, immediately followed by a networking hour. Attendees will hear leading fashion professionals including Pamela Macklin, Former Fashion Director of Essence Magazine; Malan Breton, Founder and Creative Director of Malan Breton; Sandi Bass, CEO of Sandi Bass International; and Rebecca Johnson, Founder of Celebrevents present on topics such as fashion design, working at a fashion magazine, event planning, production, and the business of fashion.
"We're delighted to partner with Murry Bergtraum on this special event. Our goal is to enlighten students, their families and the community by presenting the wealth of opportunities that fashion can provide," said Palladino. "Talent alone is not enough. Our presenters will share how a solid education, which gave them the fundamental tools, knowledge and discipline, was the key to their success."
UCOF will be offering free fashion education seminars at MBHS later this fall.
For more information and to learn about UCOF, please visit: www.ucofacademy.org
***
About UCOF
United Colors of Fashion (UCOF) is a 501(c)(3) organization with a mission to empower NYC underserved Middle and High School students through free Fashion Education. The program consists of series of strategic seminars that introduce students to the opportunities in fashion while stressing the importance of written and oral communication skills, mathematics, and the value of collaboration.