By: Gabriela Herstik
If there is one word to describe Minimale Animale it is indeed minimal- not in concept or aesthetic, but purely in design. Instead of sleek minimalism like the name hints at, Minimale Animale is all about minimalism in coverage, meaning the more skin there is showing, the better.  Whether it was a gold lame bikini with sheer black detailing, or a topless model wearing nothing but a strappy black bottom, the urban edge of this collection was striking and to die for. Cassandra Kellogg, the mastermind and designer behind the brand, has truly created a collection for the daring woman who is not afraid to get down and dirty with her fashion.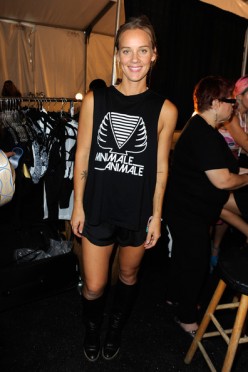 The 2015 show even went so far as to include motorcycle helmets, which serve as the perfect over-the-top accent to an incredibly minimal bathing suit. This season's offerings included a lot of harnesses and of course, the classic mesh and leather combination, redone and revamped for the season of course. Although we love the itty-bitty bikinis, we can't help loving the Minimale Animale leather jacket even more.