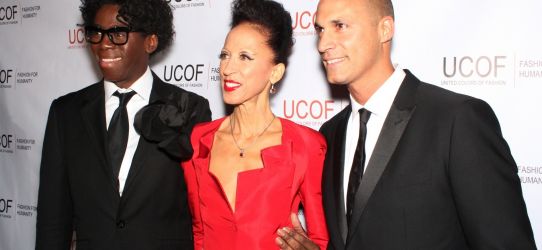 Enlarge image
BY: Jamil Khan
JOHANNESBURG – Pat Cleveland is a name that still redefines the concept of beauty as it did in the 70's. The American-born darling of fashion has come a long way since making Europeans gasp for breath at the "Battle of Versailles" at the Palais de Versailles. It was a moment that would literally change the face of fashion the world over. While most models were confined to the choice of print or runway, Pat Cleveland did both – a formidable face framed by indomitable hair and complimented by an inimitable walk that never led her too far from the runway.
A graduate of the High School of Art and Design and student of the LaGuardia School of Art one can say she was groomed for her discovery by Vogue editor, Carrie Donavan, in a New York Subway in 1967. From there it was all the way to the top for Cleveland, who became a sensation in the fashion world, being photographed by Steven Meisel and Andy Wharol.
A career that has spanned decades, including devoting herself to motherhood, has given Pat Cleveland a status that can only be described as legendary. Having worked with fellow legends such as Karl Lagerfeld, Valentino, Stephen Burrows, Thiery Mugler and Paco Rabanne to mention a few she has managed to move into the A-list neighborhood of fashion in a time when the market wasn't buying her look.
As imperceptible as her achievements in fashion are, Pat Cleveland is not just about face. Inside that tiny shell, lies a big heart that gives glamorously. The United Colors Of Fashion (UCOF) 2012 Annual Gala and International Fashion Benefit was held on October 17th, under the theme "Be Glamorous, Glamor Gives". Alongside her very close friend, Sandi Bass and other fashion heavyweights such as Nigel Barker and Miss Jay Alexander, Pat came out in support and strutted down the runway for our fabulous fashion show.
In a more amazing gesture, Pat has dedicated her time to support the mission of UCOF which aims to help fashion students by exposing them to the industry and promoting arts education programs in New York. In addition, UCOF also taps into the power of the fashion industry to improve the lives of those suffering and has been raising funds to aid children living with HIV/AIDS, sickle cell anemia and paralysis. UCOF has been raising funds for Soweto Hospice in Johannesburg, South Africa, and will be making a much-anticipated journey to Soweto Hospice in March, 2013. It is overwhelming and heartwarming that Pat Cleveland has downed the blush brushes in a gesture of support for those less fortunate and is prepared to further the cause of UCOF, so very graciously.
A love of fashion has brought together two formidable forces – charity and chic aimed at alleviating the suffering of those that might never know the bright lights of this whimsical world we live in.
"Fashion gives you that extra something. It helps make the world an interesting place to live in because it is part of life. Thank God for fashion." – Pat Cleveland.
Well, we say, thank God for Pat Cleveland.
Jamil Khan is a Psychology graduate from Stellenbosch University with a keen interest in fashion, social upliftment and research. He is a United Colors Of Fashion press intern, based in Johannesburg, South Africa.