UCOF to debut student collections at Haiti Fashion Week
NEW YORK, NY (October 29, 2014) – Following a roaring response to the recent UCOF Gala themed Paper Dreams: Writing New Runways the work of their students are set to enjoy another first. As the first registered 501(c)(3) organization in the USA to offer free fashion education to under-resourced youth, their runway debuts have proved the mission to Empower Youth Through Fashion Education to be a fruitful one. On Saturday, November 1, 2014, at the prestigious Karibe Hotel in Pétion-Ville, Haiti, UCOF will showcase the collections of their two student designed labels Arshel and Rendezvous at Haiti Fashion Week.
The event, which celebrates Haiti's awakening to the importance of local fashion and the industry at large will see a diverse showcase of designs presented to interested fans of the craft as well as celebrities and dignitaries.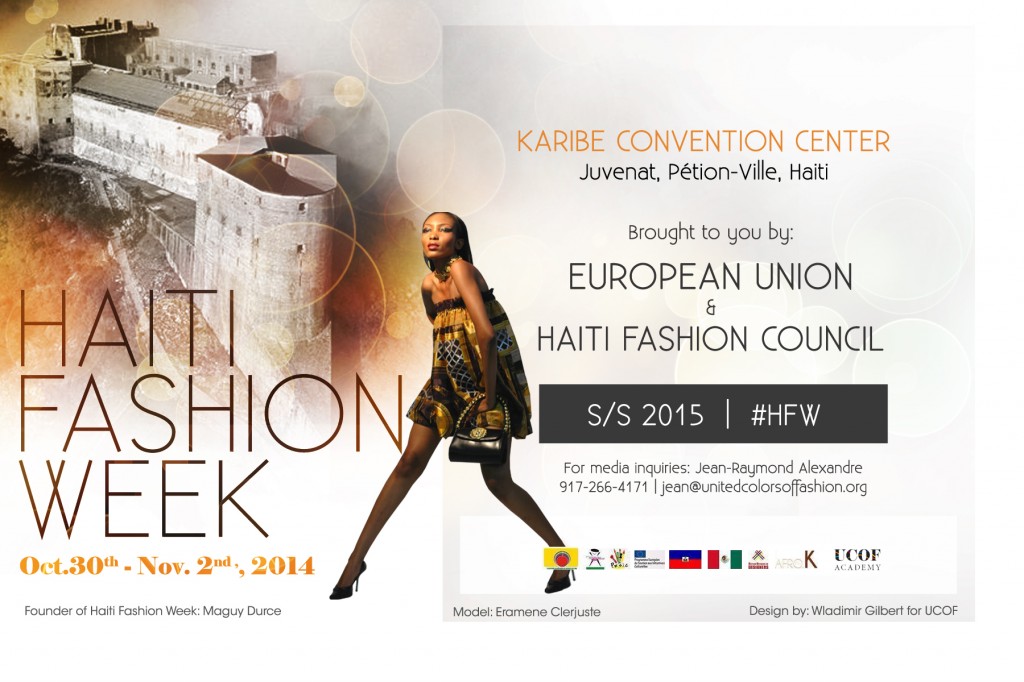 As a token of appreciation and a statement on the evolution of the Haitian fashion industry, UCOF will honor Geri Benoit, the former First Lady of Haiti, and Maguy Durce, the Founder of Haiti Fashion Week.
As a passionate advocate for the arts, Geri Benoit has dedicated her time in office and beyond to putting the Haitian fashion industry on an international stage and exposing the world to the talent possessed by Haiti. Further to that, she has also been relentlessly fighting for the rights of artisans to have their work protected by the claim to intellectual property (Droit d'Auteur, propriété intellectuelle). These rights, which are considered a norm in other countries still warrants a fight in Haiti and it is the efforts of Mrs. Benoit that will bring them to pass.
Maguy Durce, who founded Haiti Fashion Week is also the former Minister of Industry and Commerce. As someone who understands the challenges small businesses face, she started ModAyiti, a garment workshop that aims to bring designers together to produce a wide range of fashion goods, everything from clothes and shoes to jewelry, handbags and other accessories. Her efforts have since made a difference to the sustainability of Haitian businesses in fashion.
"As a Haitian, I am so proud and honored to represent the students of UCOF at Haiti Fashion Week, but more importantly, to recognize the efforts of selfless visionaries such as Geri Benoit and Maguy Durce. It is the collective efforts of all of us, I believe has inspired the powers such as Michelle Obama to sit up and take note on the importance of Fashion Education. I foresee a fashion renaissance for Haiti and I am fully invested to making this a reality," says UCOF founder and president Ciano Clerjuste.
Clerjuste will present the student collections on their behalf. The collections are inspired by very different visions and range from fun and colorful to dark and sophisticated.
The collection by Arshel, is loosely inspired by traditional Indian attire and aimed at "a sexy, scholarly and sociable woman", it begins with separates consisting of brightly colored loose tops over tailored pants, and transitioned into gold embroidered pastel pieces. The collection by, Rendezvous (212) is inspired by different NYC neighborhoods and the women who inhabit them. Rendezvous is created with a dark color palette of shades of blue and black, utilizing high sheen fabrics that exude an industrial feel, and features asymmetrical sharp tailoring via suit-like separates and hooded cocktail dresses.
For media inquiries, please contact:
Jean-Raymond Alexandre | Publicist | United Colors of Fashion Media Departments
jean@unitedcolorsoffashion.org
(917) 266-4171